How to customize the settings
In this tutorial, here you can configure the settings or customize of the Product Sample & Memo app. The first option you'll see is the Sample Type. Let's start step by step!
Sample Type
There are two types of sample setups you can choose from.
Type 1:  The first one is a global sample with the same price for all products.
In this option, We provide a global sample pricing feature for all the products in your store.

Global Sample
If you choose above one global sample so you can add global sample price.

Type 2:  The second option is to have multiple samples with different prices.
If you select this option, So we have two types of multiple samples options for you.

Multiple Sample
Option 1: Offer Samples to some products only.
In this option so you have to choose products, which you want to show sample button and if you can to set different price for the different product sample.
Here is the steps:
Steps 1: You can click the Choose Products button to select one or multiple products., it will open a list of all products of your store.
Step 2: You can select products that you want to provide a sample and click on Add button.
Step 3: Now, you can see a list of selected products and you can enter different prices per product or the same price.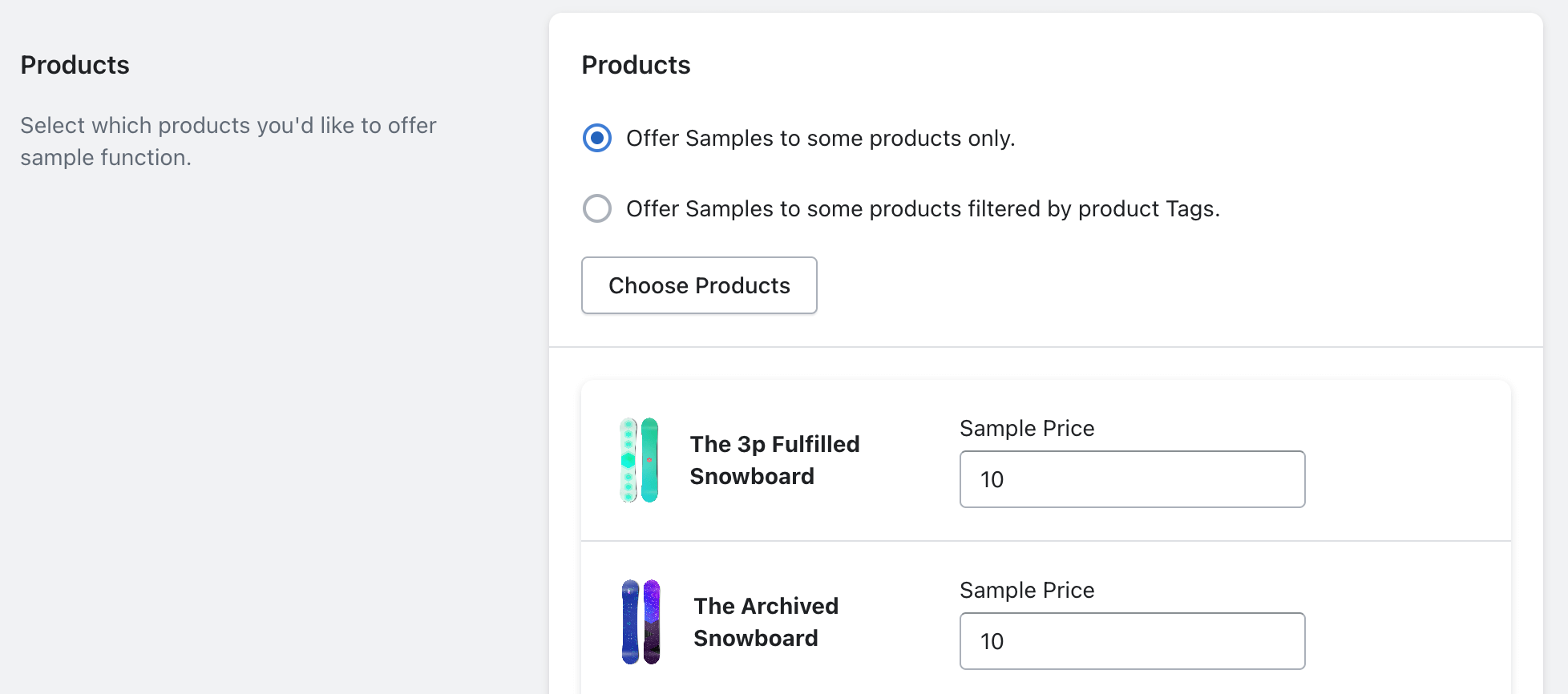 Option 2: Offer Samples to some products filtered by product Tags.
You can provide sample button of multiple products with the same tag and set different prices per tag.
Product tag value: You can add the same tag name you have added to your products
Sample Price: Set the price of the sample product button
Sample Image URL: You can upload an image on your Shopify store contents > files and copy the image URL and paste it there.
If you want to set the product sample button for different product tags, so just click on the + icon and you can add another tag and set the price.

Translation
If you want to change the alert message and button name on your store language or text change, So just update it there.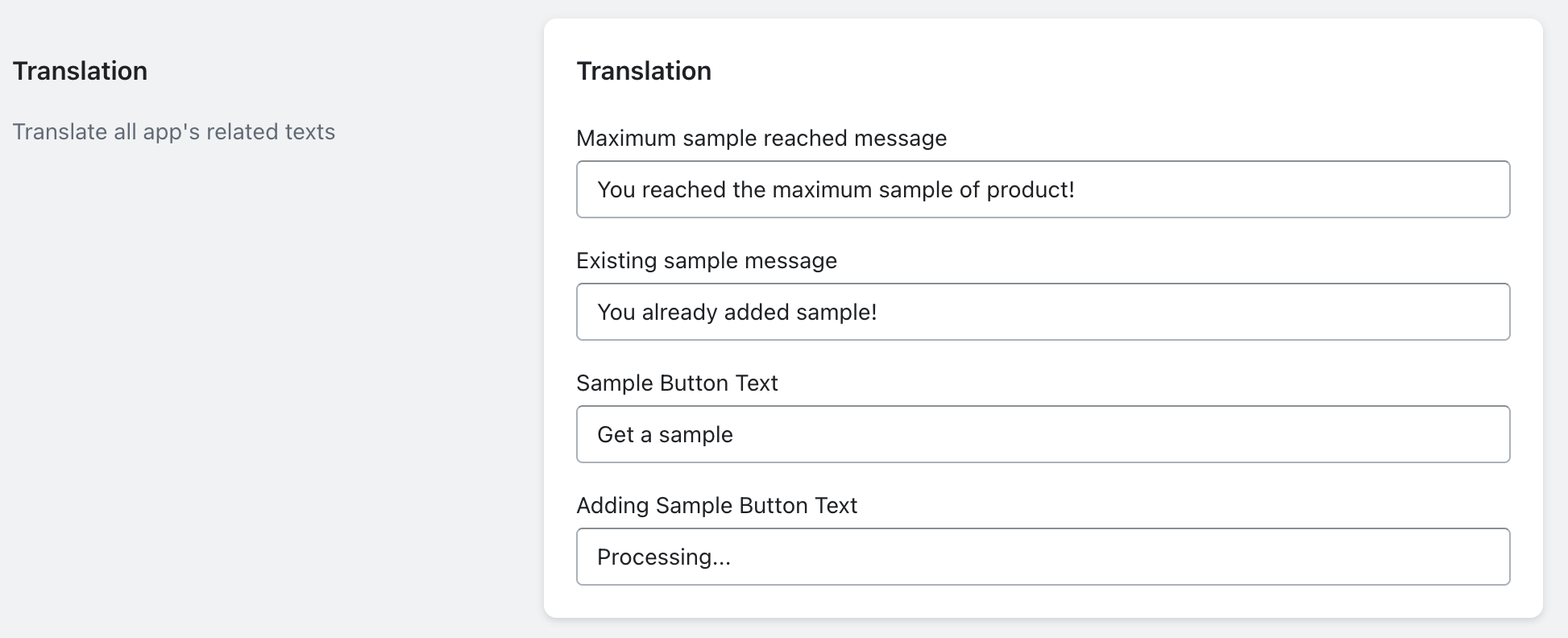 Advanced Settings
Redirect options

When custom click on Product Sample button, So we provide you the two optoions
Checkout: It's means, When you customer click product sample so it will redirect on checkout page
Cart: It's means, when you customer click product sample so it will redirect on cart page.

Limit samples per customer
If you want to set a limit on the number of samples a customer can purchase, you can enable the "Limit samples per customer" option.
Maximum samples: With the "Maximum samples" setting, you can define the maximum quantity of samples a customer can purchase.
Every Days: The "Every Days" setting allows you to set a specific time period between sample purchases. For example, if you set a limit of 30 days, customers will only be able to purchase their next sample after the completion of the 30-day period.
Check this box to allow users to add multiple samples to the cart at once:
– If you checked this checkbox, customers will be able to add multiple samples to their cart.
– By default, this checkbox is not selected, which means customers can add a single sample product to their cart at a time.

Shipping Rate
You can choose an option for the default shipping rate of your store or offer free shipping for sample products.

Custom Class
If you have a shopify theme outside the shopify theme library so you can add the class name of where you want to show the button on the product page and the sample button will be there to show, If you need any help so contact the customer support team.

Need more help? Feel free to reach out to our Customer Support Team via email and live chat!