Welcome to the Giftman ‑ Gift Wrap & Message Settings Page!
The Settings Page allows you to configure and customize various aspects of the Giftman app to suit your preferences. This page offers a range of features to control the app's functionality, including activation, currency sign, display options for the gift option, and order tagging for gift orders. Let's explore the key features available on this page:
1. App Activation:
Activate or deactivate the Giftman app based on your needs. When the app is active, customers will be able to see and utilize the gift option during the checkout process. Deactivating the app will temporarily hide the gift option from your store.
2. Currency Sign:
Change the currency sign used for pricing within the Giftman app. This allows you to match the currency format with your store's primary currency and create consistency for your customers.
3. Where to Show Gift Option:
Choose where the gift option should be displayed. You have three options:
Both:
Display the gift option on both the product pages and the cart pages.
Product:
Show the gift option only on the product pages.
Cart:
Display the gift option solely on the cart pages.
4. Enable Order Tagging in Gift Orders:
Activate the order tagging feature for gift orders. Enabling this option allows you to automatically assign tags to orders that include gift wrap, gift message, or gift receipt. Order tagging can help you organize and track gift orders more efficiently.
5. Add Tag for Gift Wrap:
Specify the tag that should be applied to orders that include gift wrap. This tag can help you identify and categorize orders with gift wrap items for easy reference and fulfillment.
6. Add Tag for Gift Message:
Define the tag that should be added to orders that include a gift message. This tag allows you to identify and manage orders that contain personalized messages for seamless processing.
7. Add Tag for Gift Receipt:
Assign a tag to orders that include a gift receipt. This tag helps you differentiate and manage orders that include gift receipts as part of the gift option.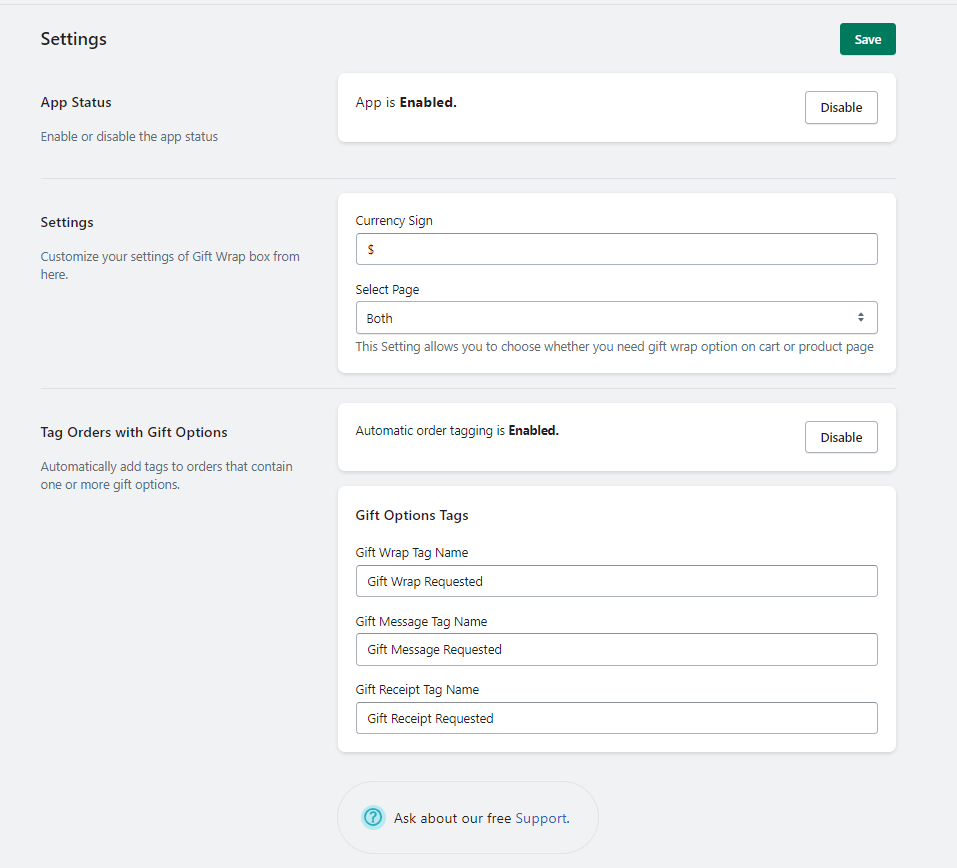 We hope this overview of the Settings Page helps you configure the Giftman app to align with your specific requirements. Should you have any questions or require further assistance, our support team is always ready to assist you.
Happy customizing and optimizing the gifting experience with Giftman!